Sonja Zausch
Member of the Leadership Team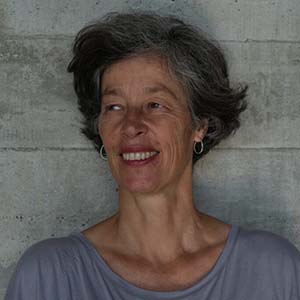 ---
After completing qualifications as baker, dancer and eurythmist, and after years of work in dance and eurythmy, Sonja Zausch found her way into curative education and social therapy. Her journey to curative education and social therapy began in 2004 at the Kaspar Hauser Foundation in Berlin-Pankow as a member of the management team developing anthroposophically oriented educational programs for people with assistance needs (including social eurythmy), for employees of the foundation (including a basic anthroposophical study year) and for all citizens in the district with artistic courses and cultural programs.
This led to a cooperation with the Emil Molt Academy, a vocational school for Waldorf education that was being founded in Berlin. Here Sonja Zausch developed the curricula for anthroposophically oriented training in social assistance and curative education. From 2010–2019, she worked at Emil Molt Academy as a teacher, training supervisor, internship mentor, and in school leadership.
As part of a master's degree course at the Alanus Hochschule Alfter, she has worked and published on group eurythmy in the field of adult education, including social therapy. She is particularly interested in the nonverbal communication processes happening in movement.
In addition to her tasks in the Council's leadership team, she works in the German Federal Association of Anthroposophical Social Work "Anthropoi Bundesverband". Since October 2019, she has been the deputy director for the five-year project In Good Company – Living Inclusion. She is also coordinator for the Vocational Training Department and a member of the Education Council.
---
Regional Focus:
Germany
Eastern Europe
Western and Central Asia
Middle East
Responsibilities:
Conference Organization
Social Therapy
Inclusion
Young Professionals
Conference Zukunft Jetzt (Future now)
Working group medicine in curative education and social therapy
---
Email: s.zausch@inclusivesocial.org