New edition of Karl König's 'First Three Years of the Child'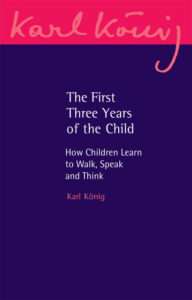 Karl König
The First Three Years of the Child
How Children learn to Walk, Speak and Think
3rd edition May 2023
Floris Books
ISBN: 978-1-7825-0847-2
In his classic work on early childhood development, Karl König explores the first three years of a child's life by examining the three major achievements that occur during this stage: learning to walk, speak and think.
These are three core faculties and their acquisition, König argues, is 'an act of grace' in every child. He goes on to provide a detailed analysis of this extraordinarily complex process.
This new Karl König Archive edition now includes extensive notes and a new introduction by Jan Göschel, member of the leadership team of the Anthroposophic Council for Inclusive Social Development, which places this well-known text in the context of current research in child development, linguistics and the neurosciences. The editor's comprehensive comments highlight the continued relevance of König's visionary and imaginative approach and open doors to further research that can inform pedagogical and therapeutic approaches and practices.
'The First Three Years of the Child' provides fascinating insights into early years' development and will be of great value to educators, medical professionals and carers.
A German version of this new edition is in preparation.
Website with order information: Floris Books