Autumn Conference 2021
October 7, 2021 @ 14:30

-

October 9, 2021 @ 13:00

CEST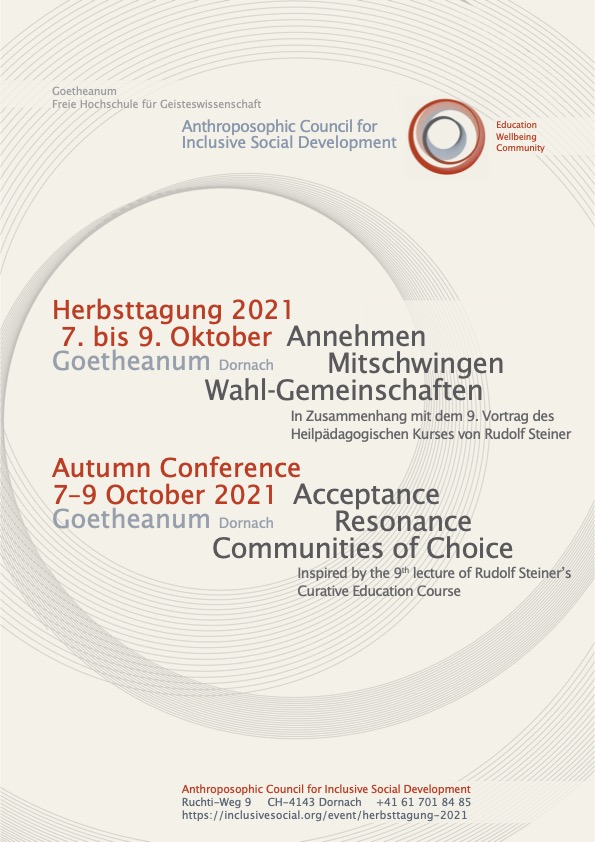 Acceptance – Resonance – Communities of Choice
We warmly invite you to the upcoming inclusive small autumn conferenceat the Goetheanum!
After the good experiences of the last few months with digital formats, we want to get everyone involved.
We would like to meet and preferably in person for three days in the Carpentry Building at the Goetheanum.
But we also offer opportunities to participate digitally. This is for all those people who can't travel that far.
The conference planning has been developed in collaboration with a new group of younger employees. We hope that this will inspire younger people in particular to take an interest in our topics. Be part of it!
Please feel free to contact us with any questions, suggestions, or anything that concerns you about this conference.
We look forward to seeing you – both near and far away.
Covid-related measures at the on-site conference

If you have any questions about entering Switzerland, please refer to the Swiss government's Travelcheck: https://travelcheck.admin.ch/home. Anyone crossing the border must fill out the pre-registration form before entering the country: https://swissplf.admin.ch/formular
In Switzerland, a covid certificate (either vaccinated, recovered or tested*) is mandatory for all indoor events as well as for restaurants and recreational facilities.
* Rapid antigen test (no self-test!) – valid during 48 hours in Switzerland, or PCR test – valid during 72 hours in Switzerland.
Anyone who needs a rapid antigen testcan arrange for it to be carried out free of charge at the Saner Pharmacy in Dornach near the train station. Appointments for this can be booked online: https://saner-apotheke.ch/coronavirus/corona-antigen-schnelltest
Switzerland now also issues Swiss vaccination certificates for foreign visitors who have been vaccinated abroad.
For people who have been vaccinated outside the EU, it is possible to have a Swiss certificate issued (see https://corona.so.ch/bevoelkerung/covid-zertifikat).
To request one, send an e-mail to the canton of Solothurn (covid.zertifikat@ddi.so.ch) stating that you will be staying in the canton of Solothurn and asking for a certificate to be issued. In the attachment you send a scan of the foreign vaccination certificate and a copy of your passport or identity card. You will receive the Swiss certificate by e-mail as a PDF and can then print it out and/or upload it to the Swiss app.
This process takes approximately 2 business days.
You can find out which vaccines are recognized for entry into Switzerland and further information on the recognition of foreign certificates here: https://www.bag.admin.ch/bag/en/home/krankheiten/ausbrueche-epidemien-pandemien/aktuelle-ausbrueche-epidemien/novel-cov/empfehlungen-fuer-reisende/quarantaene-einreisende.html
For the conference, you will receive a colored bracelet when you pick up your conference ticket or at the latest at the entrance to the event space, which will allow you to move freely in all event spaces without a mask.
Participation also possible online!

We are pleased to also offer an online format, with live streaming in "Zoom" and opportunities to share and work in "Wonder." The sessions in Zoom are translated into English, German, Russian and Spanish.
If you cannot be present at the Goetheanum, register now for online participation – individually or as a group!
In order to enable solidarity-based financing, we ask all participants from financially relatively stable countries to contribute at least the suggested amount of CHF 50. Participants from less financially stable situations can choose an adjusted contribution at their own discretion. You are also invited to participate if no financial contribution is possible. We would like to make it possible for everyone who is interested to participate.
Registration for online participation
Related Events